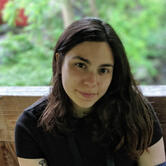 mason martinez
---
writer. editor. coffee enthusiast.
about.
mason martinez (they/them) is a latin, nonbinary writer and editor from nyc. they hold a BA in english literature and creative writing from purchase college and graduated with academic honors for every school year.
mason is the recent recipient of the '21 ginny wray senior prize in fiction through purchase college for their short story, the treehouse.for their senior project, mason worked on a 150-paged magical realist novel that deals with religion, cults, and sexuality. they will be pursing their manuscript-in-progress over the next year, developing it into a full-novel manuscript that will be sent out for querying.through their 2018 internship at youth communication in nyc, their article about coming to terms with being nonbinary has been published online, in-print, and re-printed into textbooks that are distributed into high school rooms all throughout the city. the article has also been referenced in a 2021 teaching textbook to help inform rising educators on diversity in classrooms.as a recent graduate, mason is currently working for the library system and spending their off hours revising older pieces and dreaming of new ones.staffing:Fiction Editor and PR/Marketing for Italics Mine, 2019-2020.Managing Fiction Editor for Chaotic Merge Magazine, 2020-present.
contact.
want to tell me something? go for it! i'm always happy to chat. the easiest way to get in touch with me is on social media.twitter: @masonnatjif you have questions about services i provide or to work with me please email me at: [email protected]located queens, ny.